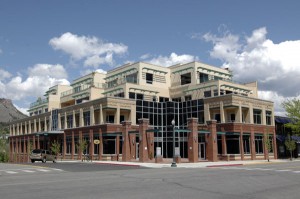 The Lofts at 1201
The Lofts at 1201 was conceived as a mixed use work/live development. Rick Feeney of Feeney Architect was chosen to design a building that respected the traditional designs of Durango's Historic Downtown but made its' own statement of contemporary style. The Lofts at 1201 received the City of Durango's award for Outstanding Design for new construction in the Downtown in 2009.
A total of 12 residential condominiums ranging from 750 square feet to  2,900 square feet were custom finished per owners specifications. Contemporary finishes including Neff Cabinetry, Viking appliances, stone and wood floors, exotic baths and large patios complement each unique home.
The Commercial condominiums include one retail space and 8 office units. Guido's Favorite Foods occupies the premiere corner location with a beautiful "piazza" for outdoor dining. Guido's offers authentic Italian foods, great wines, Deli delicacies in a contemporary setting. Dine in or take out. Owners Sean and Susan Devereaux are also residents at The Lofts.
The offices have all been sold and are occupied by various tenants and owners. The Lofts at 1201 website has information on the available units for sale or rent.